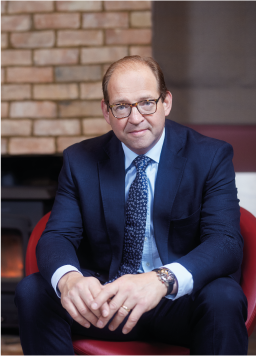 I am so proud to share our new identity: one that reflects our depth, confidence and the beauty of our offering.
As I ponder on this message, I look back at how far we have come since the inception of Renovation Underwriting. When we set out on our journey, we wanted to create a business that didn't just provide renovation insurance but one that was driven to make a difference. Over time, we have evolved to become a sophisticated brand that has retained its individuality and further honed this proposition. Our clients are treated with respect and our mission remains to always offer a creative underwriting solution to protect their greatest asset. As many of our partners will have heard me say so often before – the client must always win.
The central values of expertise and passion still drive us. In each and every renovation case, we deliver sound advice, comprehensive cover, competitive premiums and a fair claims settlement. The future for Renovation Underwriting is so exciting because of this and because of how our team and our specialist partners exhibit these brand behaviours every single day.
You don't need me to say that it's been a challenging couple of years. However, I am hugely proud of all the people around me. Our loyal team who have tirelessly worked to help each other and keep the focus upon our clients. Our brokers who kept the faith and adapted to the situation, and our insurance partners who were willing to listen and support us
throughout.
This is why sharing our new identity is so important to me. Our brand is a reflection of our place in the market: the depth of our commitment, our confidence to be different, and the sheer beauty of putting people over profits. As we launch this new look and feel, it heralds the next phase of our growth and reinforces our determination to challenge ambivalence
about potentially life-changing risk.